Teeth fillings are utilized using the most modern advancements in dentistry. The exact placing of modern composites allows the tooth to be as close as possible to its original strength in the most conservative fashion. Modern dental technologies use composites of a very hard composite resins that bonds (micromechanically fuses) to the tooth to hold the tooth together. The use of amalgam fillings, silver color, has been replaced with these composite resins as some dentists believe that amalgam fillings expand and contract with hot, cold and biting. Some believe amalgam technology can lead to teeth that are weakened with every meal and that are susceptible to fracturing.
Crowns are used to cover damaged, cracked, chipped teeth, or to generally restore teeth. When cemented into place, they fully cup over the portion of a tooth which lies at or slightly below the gum line. We will match the color of your teeth to give you a natural look and feel.
A dental bridge is a custom device anchored to neighboring teeth that replaces one or more missing teeth. A tooth or teeth replaced with bridgework are replaced by a natural-looking prosthetic (replacement) that is held together by the teeth on either side of the missing one(s).
Crowns and bridges are most commonly prepared from high quality materials such as semiprecious or precious metals, porcelain, or a fused combination of the two. We will take into account esthetics, function and tissue compatibility when selecting the material most suitable for your teeth.
Dentures are a common restorative device used to replace missing teeth for people with no teeth. They can also be used in mouths where several teeth need to be replaced. These types of dentures are called partials and are also a popular alternative to those who wish to conserve existing healthy teeth. Dentures allow for the ability to chew and bite properly, and prevent a sagging facial appearance.
Flexi partials do not have metal part. They look better, adapt gum tissue better. Most patients have chosen flexi, non-metal, partial over those metal partial.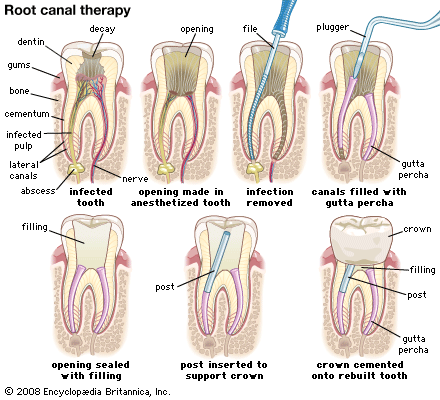 To understand a root canal procedure, it helps to know about the anatomy of the tooth. Inside the tooth, under the white enamel and a hard layer called the dentin, is a soft tissue called the pulp. The pulp contains blood vessels, nerves and connective tissue, and helps to grow the root of your tooth during development. In a fully developed tooth, the tooth can survive without the pulp because the tooth continues to be nourished by the tissues surrounding it.

Endodontic treatment treats the inside of the tooth. Endodontic treatment is necessary when the pulp becomes inflamed or infected. The inflammation or infection can have a variety of causes: deep decay, repeated dental procedures on the tooth, faulty crowns, or a crack or chip in the tooth. In addition, trauma to a tooth may cause pulp damage even if the tooth has no visible chips or cracks. If pulp inflammation or infection is left untreated, it can cause pain or lead to an abscess. During root canal treatment, the inflamed or infected pulp is removed and the inside of the tooth is carefully cleaned and disinfected, then filled and sealed with a rubber-like material called gutta-percha. Afterwards, the tooth is restored with a crown or filling for protection. After restoration, the tooth continues to function like any other tooth.

- Wisdom Teeth Extraction

- Adult and Child Prophy

- Deep Cleaning

- Soft Tissue Treatment

- All Spectrum of General Dentistry

0

/